Totem Talk: Exploring Elemental Shaman PVP talents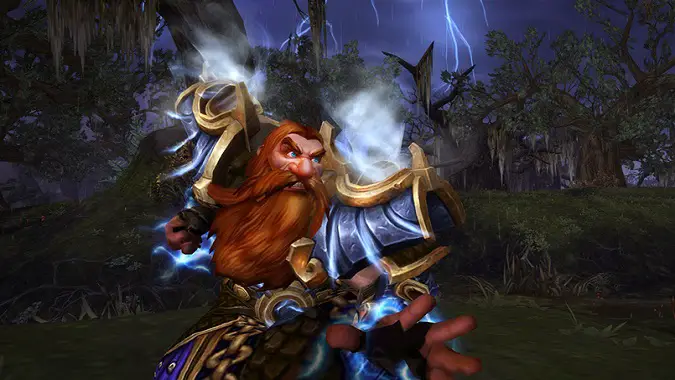 Having a separate talent tree for PVP is something about Legion that really interests me — enough so that I'll be spending time exploring PVP in the upcoming expansion. The idea of having a set of unlockable talents that improve your character beyond gear makes me pretty happy.
Last time we talked about Honor Talents, we focused on familiar abilities for Restoration Shaman that had been re-purposed for PVP as well as stand out talents and abilities. This week we'll take a look at Elemental Shaman Honor Talents to see what's new and unique — or maybe re-work of some classic abilities.
If you're new to Honor Talents, there are a few important things to note about them. First is that three of the six tiers are determined by your specialization. Secondly, each of the talents is unlocked as you reach higher honor levels. It adds little incentives as you move through the ranks that, to me at least, are more exciting than just pieces of gear.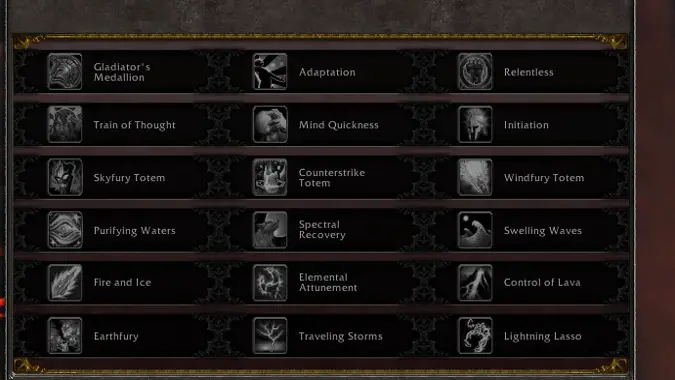 Damage boosts
The second tier of talents is all about damage, which is, after all, an Elemental Shaman's primary function. Train of Thought is a straightforward talent. When used, it increases our damage by 15% until we get attacked. That's an interesting twist on a damage buff, and it not only incentivizes staying alive but not getting hit at all.
Mind Quickness is also pretty straightforward, giving you a flat 6% additional haste. The cool thing is that this is an old throwback to the days of classic WoW and Burning Crusade talent trees, down to the icon for the talent.
Last in the tier is Initiation. This nifty little boost increases our spell critical chance by 30% when we attack targets at or above 80% health. This is perfect for that opening salvo when you really want to make a great first impression on the opposing faction.
Each is useful in a way, though I'm wondering exactly how useful Train of Thought is going to be because there isn't a whole lot of time in a battleground where we aren't being attacked. I also really appreciate the addition of Mind Quickness as a nod back to beginning of the game.
Calling the Elements
This tier is all about calling in the elements for a little assistance. I appreciate that even in PVP there's an attempt to preserve the Shaman fantasy. Fire and Ice, or as I've been calling it Icy Hot, gives Frost Shock a 20% damage boost while letting Flame Shock generate Maelstrom for us. I actually like this talent quite a bit, partially because it reminds me of the days when Frost Shock was king in PVP.
Elemental Attunement is another straightforward talent: it increases our maximum Maelstrom by 50. Some of our spells require us to maintain a large reservoir of Maelstrom in order to get the most damage out of them, and this allows us to skirt that line. Now we can still use those spells while keeping Maelstrom at a level for maximum damage.
Control Lava gives a nice boost to Lava Burst, increasing damage by 150% and allowing the spell to generate 30 Maelstrom when it deals damage. The extra damage and the extra Maelstrom are both nice and it fits right in to the tier thematically.
Comparing all three talents, I believe any are all viable choices — so pick the one that fits your playstyle and you should be good to go.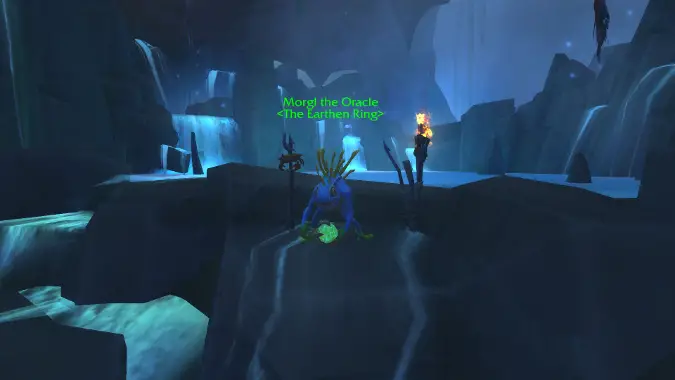 Lightning and Earth
You get more elements in the sixth tier with a focus on Lightning and Earth. Earthfury, which centers around Earth Shock,is the first option available. When you pick up this talent, casting Earth Shock on a target when we have 100 Maelstrom will also stun the target for 2 seconds — making it a good talent to pair with Elemental Attunement. Having a stun pretty much on demand is super useful, plus it gives an extra incentive to use Earth Shock.
Traveling Storms allows us to cast Thunderstorm on allies within 40 yards, and reduces the cooldown as well. This is potentially incredible when you need to save your healers or maybe you just want to surprise your opponents when they're trying to go to town on a teammate. Nothing like a surprise knock-back to make someone's day.
The last unlock-able talent is Lightning Lasso. Though it has a weird name, the effect is certainly cool. Basically, we get to ring a target in lightning and stun them. It's a channeled spell that looks like we wrap the target in what is essentially Chain Lightning. It's a cool ability that's definitely thematically appropriate.
Pick the talents that suit your playstyle
Honestly, there are a lot of great options here. Almost everything is useful in some capacity and each piece feels like an honest incentive to keep earning honor. I particularly enjoy how everything fits into the fantasy of commanding the elements while giving us some new tricks. Traveling Storms is a particular favorite of mine early on simply because of how annoying it can be for the enemy to contend with.
We'll have to see how the Honor Talents shake out after Legion launches, but right now it looks like we have a strong set of options.