WoW
Sep 2, 2016 5:00 pm CT
Yes, there is a transmog vendor in Dalaran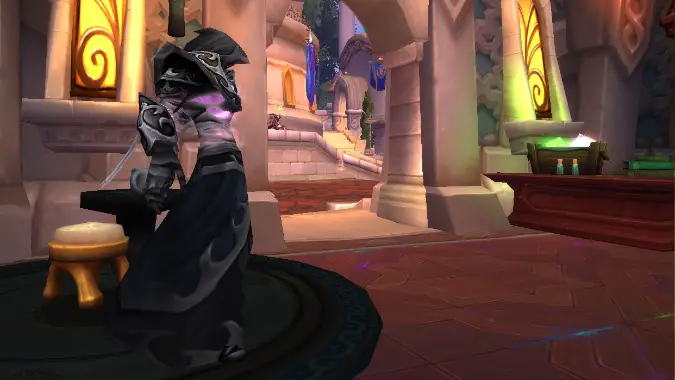 With the introduction of the wardrobe, transmog has rapidly risen to one of the important aspects of World of Warcraft for me. It isn't just enough to go smash demons in the face, I have to look good while doing it.
And there's just one problem with that. In Dalaran when you run up to a guard to ask where the transmog shop is… the option to get directions there isn't available.
I admit, I had a moment of panic when I saw this — but it wasn't necessary, because there is a transmogrifier in Dalaran. He's just a little bit hidden.
Unlike capitol cities in Azeroth, Pandaria, and Draenor, Dalaran doesn't have a specific place where the Ethereals have set up shop to offer transmog, void storage, and item upgrades. Instead, the transmogrifier is hidden away in a corner of the enchanting shop. When you walk inside, you'll find Warpweaver Tuviss directly to your right, but if you're walking down the street you'd never know he was there. Void storage, if you're looking for it, is in the bank.
In short, if you're looking for directions to the transmog vendor in Dalaran, ask for the enchanting shop.