New rewards coming for Diablo's Season 9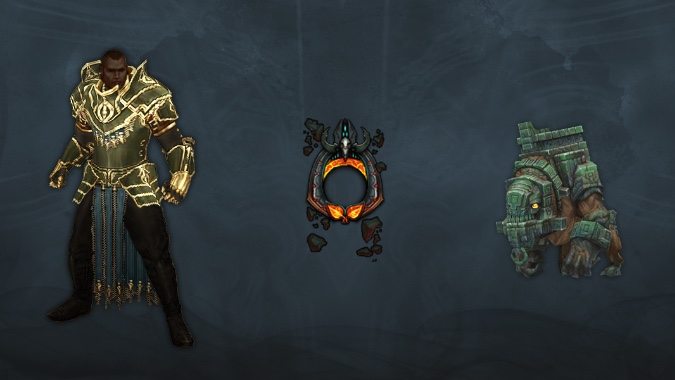 Diablo 3's Season 9 is almost here, and as always it includes an all-new set of rewards to coax you back to the game. Here's what's on offer this season:
Chest and gloves for transmog from the Conqueror Set.
New Pandemonium-themed portraits.
Rocky, a new cosmetic pet.
An extra stash tab (if you don't already have four).
A new rotation of Seasonal Conquests, including Sprinter, Speed Racer, Speed Demon, Need for Speed, Avarice, Avaritia, Curses, Stars Align, The Thrill, and Super Human.
A class set for the character you're playing from Haedrig's gift: Might of the Earth (Barbarian), Thorns of the Invoker (Crusader), The Shadow's Mantle (Demon Hunter), Monkey King's Garb (Monk), Raiment of the Jade Harvester (Witch Doctor), and Firebird's Finery (Wizard).
All of these rewards could be yours if you start a new Seasonal character and complete certain parts of the latest Season Journey — so get ready to dump some time into the game if you want them. Season 8 ends this Friday, December 30, and Season 9 will be going live on January 6. In between Seasons, we'll have the rollout of patch 2.4.3 on January 3 (or January 4 in the EU), complete with new items and the Darkening of Tristram anniversary event that sends you on a retro journey back to the days of Diablo 1.
If you're keen on jumping into the latest Season straight away, here's exactly when it starts:
North America: Friday, January 6 @ 5:00 p.m. PST
Europe: Friday, January 6 @ 5:00 p.m. CET
Asia: Friday, January 6 @ 5:00 p.m. KST
Good luck, Nephalem!