WoW
Jul 18, 2018 3:00 pm CT
Arcanomancer Vridiel now sells specific legendaries — and you have a freebie waiting for you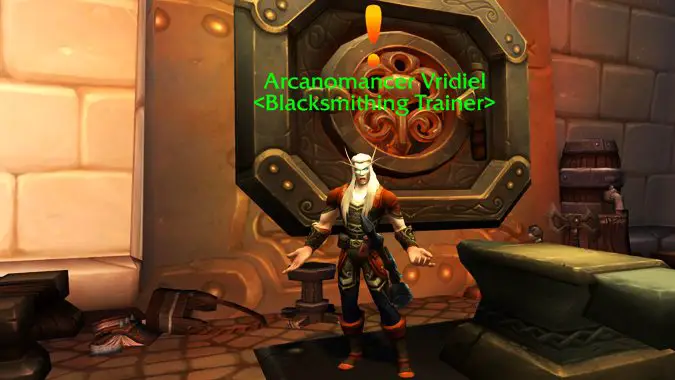 If you're looking ahead at the next month or so of patch 8.0 and you still haven't gotten that one specific legendary you wanted to level with, you can now spend your Wakening Essences to buy specific legendaries. That's right, instead of waiting to get a random legendary, or buying a token that might or might not get you one, you can buy specific legendaries using those Wakening Essences. Moreover, you can more easily farm them, because Wakening Essences have replaced Artifact Power on many World Quests.
Ythisens explains it pretty well in the forum post. Instead of selling you a token that generated a random legendary, you can now spend the same amount of Wakening Essences (1000 of them) to simply purchase the legendary you want directly. No muss, no fuss.
And if you're looking at all the legendaries you have on your main and sighing because you'd rather be able to buy the Purified Titan Essence and send that to your alts instead — yes, that ability was lost when patch 8.0 dropped. However, worry not, because it's coming back. Turns out they'd meant to provide a new option, not remove the old one.
Even players who have a ton of Wakening Essences and nothing to spend them on when it comes to their main will still be able to funnel legendaries over to alts who may not have them yet. You can spend the next month getting that phalanx of alts you have kitted out in the best gear possible so that when you get back to them after your main hits 120, you can start your leveling journey in Battle for Azeroth a little ahead of the curve.
It's better than those World Quests giving you a grey vendor trash item, which is all Artifact Power is good for now anyway. So if you have the Wakening Essences, or you feel like farming them up, head over to Arcanomancer Vridiel and get that one legendary that just never dropped.
And if you're low on Wakening Essences? Well, go check your Mythic+ chest in your Order Hall. Even if you didn't do a Mythic last week, you'll find 1000 Wakening Essences in there, enough to buy a legendary. Even if you've never done a Mythic dungeon on your character before, the Wakening Essences are still there. Every 110 character you have is sitting on at least one legendary's worth of Wakening Essence. Get out there and get shopping.
With the Battle for Azeroth pre-patch, you'll notice that the vendor who sold tokens that granted a random Legion Legendary item will now allow you to purchase specific Legion Legendaries relevant to your specialization. These are sold for the same cost that the token was sold for previously.
Battle for Azeroth is just around the corner, so we wanted to take this opportunity to allow players who are trying to complete their Legendary collections a more straightforward way to do so, as well as give or new or returning players a way to pick up some strong items to prepare for leveling.
These items can be purchased from Arcanomancer Vridiel in Dalaran for 1000 Wakening Essence. To help with this, many sources of Artifact Power will now grant Wakening Essences instead. Enjoy!