WoW
Jul 11, 2019 4:00 pm CT
Where to sell Encrusted Coins in Nazjatar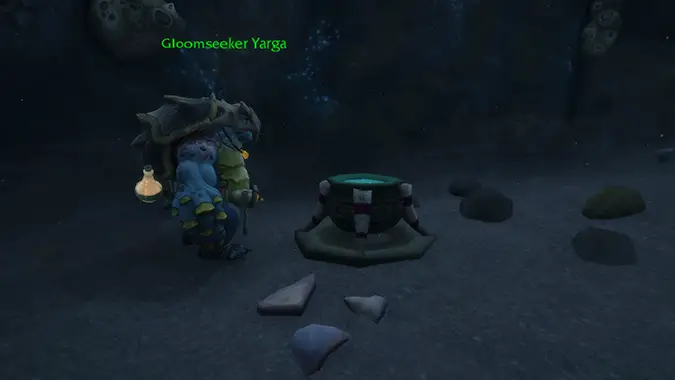 If you've been exploring and questing in Nazjatar, you might have run into one of these nasty little Encrusted Coins. If you picked it up, your character will start to feel funny and you'll want to drop it off as soon as possible. Here's exactly how to do that.
There's various reports of how to obtain the Encrusted Coins, but it seems like they can drop off of a variety of enemies and can be looted in the Arcane Chests that are scattered throughout Nazjatar. Once you find one, you're in for a little bit of a surprise. Like the description notes, these coins are definitely cursed and they'll inflict you with stuff like Curse of the Tides: Decay and Curse of the Tides: Dark Water — the former of which will stack and reduce your overall health. Have fun, War Mode players!
If you manage to pick up an Encrusted Coin, you'll want to trade it in before the effects leave you sleeping with the Naga. There's a Tortollan lady that'll have your back. Her name is Gloomseeker Yarga and she's in a cave, waiting to pluck some Encrusted Coins out of your pockets.
You can find Yarga south of Mezzemere in an underwater cave. The exact coordinates are 38, 58. Once you dive far enough, you'll find our turtle friend and she'll trade you an Encrusted Coin for a Jingling Sack. Inside the sack is a chunk of gold. The amount varies from person to person. Some people think it might have to do without the amount of curses you have on you, but there's no clear evidence of that at the moment.
If you find any more coins, you'll know where to drop them off. Do yourself a favor and maybe look more on the bright side of this whole Nazjatar situation than Yarga does. She likes to tell you some pretty sad stuff like "There are many things darker than night." Cheer up, Yarga!