Overwatch's Practice Range 2.0 will make you better while you wait in queue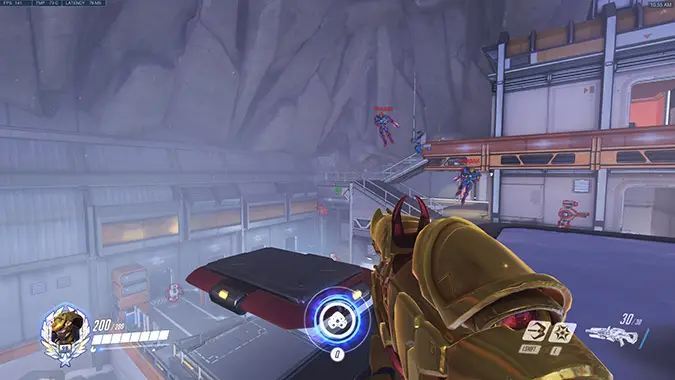 The last time we talked about giving Overwatch a better Practice Range, the result was useful, but not quite the same as the game's default training mode. A lot of the modes out there are confusing, take place on various maps, and don't work very well as multiplayer. The Workshop mode Practice Range 2.0 changes all of that.
PMAJellies is back with a mode that takes place in the Practice Range map. Practice Range 2.0 has everything you already expect in there: enemy bots scattered around the map. But it also brings with it some smart ways to practice. There's a Widowmaker bot that constantly grapples into the air so you can practice hitting her while she drops or as she lands. There's also a Symmetra bot that continuously shoots her destroyable turrets so you can try to increase your pinpoint accuracy on heroes like McCree and Ashe. Near the edge of the map are a handful of Pharahs floating around. As any Overwatch player knows, it can be really hard to hit these flying enemies. Now you can get the hang of it before a real game. And lastly, there's a infinitely teleporting Reaper so you can nail the timing on him showing up for an easy kill.
Alone these would be smart additions to the base Practice Range map, but PMAJellies has also added in toggle buttons for a Mercy damage boost, a Baptiste Amplification Matrix, and an Ana Nano Boost. All of these are pretty simple to activate and they can help you understand the cadence you need to shoot at with these massive increases to your damage output. A good example is Genji's Dragonblade Ultimate. Without a Nano Boost it takes two swings and a Swift Strike to kill a 250 health hero. With the 50 percent damage increase you only need one swing and one Swift Strike — that slight difference can lead to a lot more kills. For anyone looking to understand how to play with these frequent damage increases, you'll definitely want to hop into this custom game to practice with them.
On top of all of that, you can play this game while you're in queue with the new While You Wait feature. As you're queued for a regular game, you can enter the Custom Game browser and enter the code. You can even do that with friends too, although you all might be fighting over the bots to kill. Thankfully all of the normal bots are there too.
Considering how punishing the game can be these days, it's nice to see someone create a mode that allows people to learn how things work. Not only will it help more people be able to understand and play the game, but it'll hopefully make more teamwork happen naturally with people knowing the minutiae of the dynamics at play. At the very least, it's something nice to do while you wait 10 minutes for a Damage queue.
The code is BTRZE!