Who is the mysterious Arbiter in WoW Shadowlands? Right now, the judge of souls is silent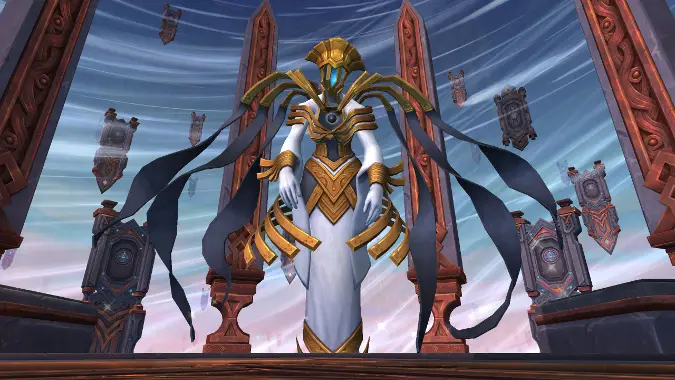 The Arbiter redefines mysterious in the World of Warcraft cosmos. Ancient beyond reckoning, she may well predate the existence of the universe or at least that of any being in it — she may be older than the Titans, and perhaps even predates the Void Lords themselves. But what little we know of her suggests that she is both a fundamental, pivotal being who helps shepherd the entire cosmos to its proper order. And she's also a being under siege by forces we're still not entirely privy to.
The Arbiter dominates Oribos, the Eternal City. She resides atop the city at the exact point where the Soul Stream enters the Shadowlands, the entry for all the departed spirits making their way into the afterlife. Ordinarily, the Arbiter would, as she has since before Azeroth even existed, judge all souls and spirits by instantly absorbing all of their life histories — all the deeds and memories and actions they took in life — and would then send them to one of the infinite Shadowlands to fulfill their destiny and return their Anima to the great cycle of life and death.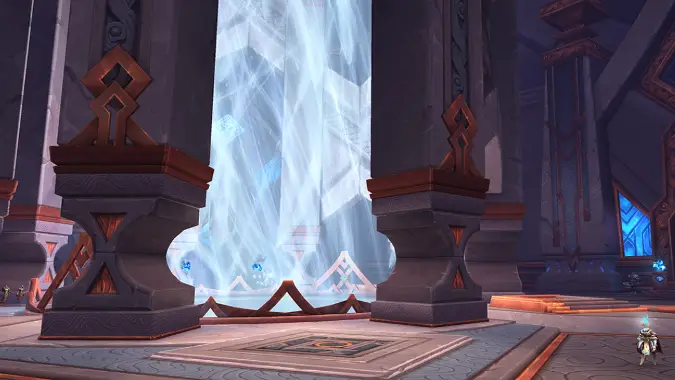 The sleeping ruler
However, this is not what is currently happening. We found out recently that Oribos is in a turmoil. The Arbiter's creations, the Attendants, have long served to keep Oribos running and to serve the Arbiter in the performance of her duties. Now, however, they are forced to stand and watch as the Arbiter hangs dormant. No longer does she judge the spirits of the deceased — instead, the Soul Stream directs all spirits to the Maw unchecked by the Arbiter's judgement, swelling the power of the infamous Jailer. We don't know how that has happened, if it's connected to Sylvanas' recent actions or not, or how they managed it if it is. I mean, it'a a safe bet, but we still don't know for sure.
There was also a brief mention by Ion Hazzikostas of a 'Pantheon of Death' but that's about all we know about that — if it's more than a metaphor, what the Arbiter's place in it is, how the other figures like the Jailer, the Winter Queen, Sire Denathrius or Kyrestia the Firstborne fit into it we just don't know.
At present, there really isn't more to say about the Arbiter — we'll find out more as Blizzard reveals more.