WoW
Aug 11, 2020 2:00 pm CT
In Shadowlands, casters will be able to transmog wands into daggers, swords, and more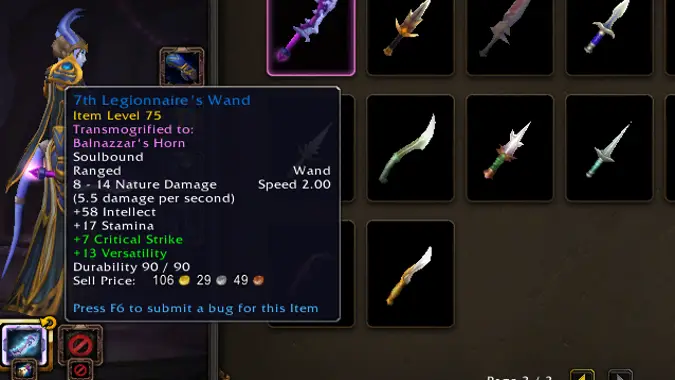 Now, I don't play casters much as a rule, and that means I've never had to stare at a wand and think I wish I could transmog this into a mace or a sword, but I am in general supportive of all sorts of transmogrification options. And so, the news that wands will now be able to be transmogged into any 1-handed weapon usable by the caster is to my mind very good news.
And it's fun because some casters can use really interesting weapons when they aren't locked into using wands. Mages and Warlocks, for example, could transmog their wand to match Quel'Delar, Lens of the Mind, while Priests who'd done the same questline could instead transmog to the Hammer of Purified Flame. All three classes can use daggers, so presumably they could also transmog the wands to daggers as well, since those are all the one-hand weapons they have access to.
I went on the Shadowlands beta and sure enough, all of the maces and daggers I have collected (a fair amount, even with the way the beta casually forgets a lot of the items in my collection) were available on the Priest I made. So it's fair to assume that Mages and Warlocks would also get access to daggers since both of those classes can equip them. That unlocks a lot of new looks for caster classes.
Now, like I said, I don't play Priests, Warlocks, or Mages very much, but changes that bring any hint of flexibility to transmog are an amazing thing. Transmog is one of those pure customization options that lets players claim their character and create their character's visual style — and in an expansion that's all about adding character customization I believe more transmog options are a pure and absolute good in service of that goal.
I will now, as is customary, mention that I believe we should definitely allow daggers to transmog to swords, axes, maces, and fist weapons if the person using said daggers can equip those weapons, both for casters using daggers and for Rogues who are tired of seeing the exact same weapon for every ability.
But still, kudos on the change to wands, it's very well timed.