WoW
Oct 19, 2020 2:00 pm CT
Brawler's Guild goes on hiatus until Shadowlands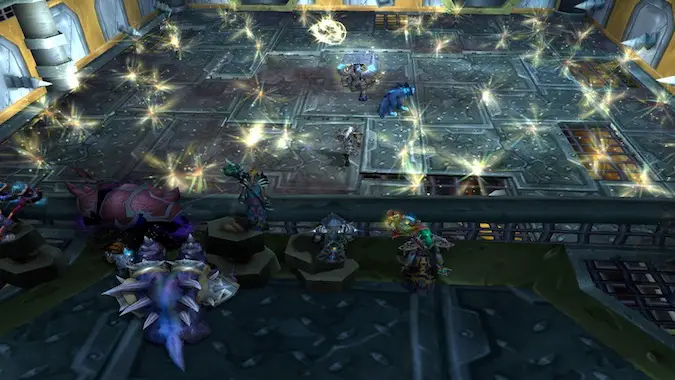 If you're into World of Warcraft's Brawler's Guild, you may be upset to find that it's currently closed as we wait for Shadowlands. But please, don't panic — this isn't the first time the Brawler's Guild has closed to wait for the next expansion, as we saw the underground arena go on hiatus during the Legion and Battle for Azeroth pre-patches, to be retooled for the next big thing to paraphrase the bouncers.
But while it's normal for the Brawler's Guild to close down for an expansion refurb, we do have to admit we don't know when the fisticuffs will be returning to Azeroth. The current information is merely that the Brawler's Guild will be back during Shadowlands. If we look at the previous two hiatus periods, both in Legion and in Battle for Azeroth, we see that the Brawler's Guild returned in patch 7.1.5 in Legion and patch 8.1.5 in Battle for Azeroth. This means we could likely make an educated guess that we'll see the return of the Brawler's Guild in patch 9.1.5 in Shadowlands, or if there aren't any specific .x5 patches this time around, at some point following the first major content patch for the new expansion.
If this Season — Season 5, to be precise — of Brawler's Guild follows the previous pattern, we'll see a re-arranged and in some cases redesigned series of fights, with new rewards for the Season. We don't know what those will be yet, but it seems to follow the pattern of previous Seasons and considering the hiatus periods we've seen before it should be along those same lines. Also, if any fights from previous Seasons are removed, they're not entirely gone — the Challenge Card system will allow a player to go back and do a fight from Seasons 1, 2, 3 or 4 that's been removed — although we don't know which ones will be removed yet, of course. I hope Oso isn't removed, but if my favorite starved bear doesn't return, we'll always have Challenge Cards.
So here we are. The Brawler's Guild is closed for now, but it's been closed like this before, so it'll likely be back with new encounters and new goodies sometime in the first major content patch for Shadowlands.