Where to find the transmog vendor in Oribos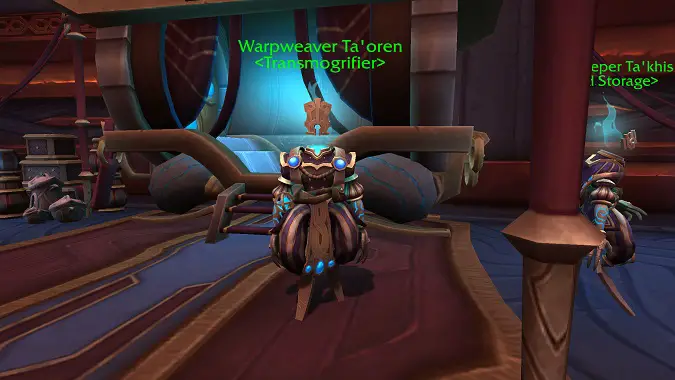 If there is one essential piece of knowledge for a new expansion, it's not about leveling or innkeepers. It's where to find the NPC that can keep your style game on point. Since we're in a neutral hub city (a la Shattrath or Dalaran) in Shadowlands, there's only one transmog vendor you need to find for those stylin' new looks.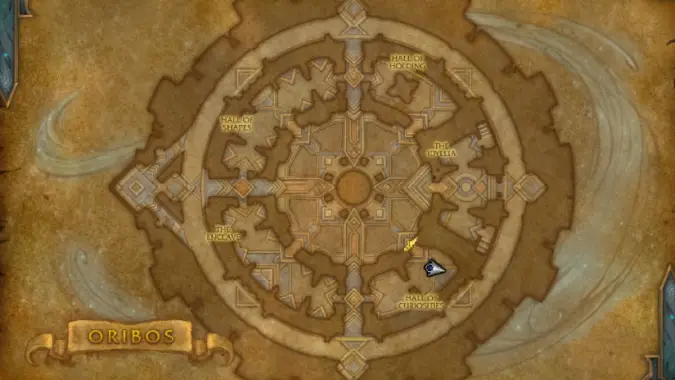 Oribos, the Seat of the Arbiter, is your standard circular hub city with two primary levels — the Ring of Fates and the Ring of Transference. The Ring of Transference holds only the portals representing the four Covenant zone and the flight master. The Ring of Fates houses the bulk of what you need in Oribos (such as vendors) and is where you enter Oribos for the first time to speak with the Honored Voice of the Arbiter, Tal-Inara.
We find our target, Warpweaver Ta'oren, in the Hall of Curiosities, the south-east section of the Ring of Fates. If you're coming from the center of Oribos, our good transmog vendor is right in front of you through the main door. If you're coming from The Enclave, running along the middle circle, head east-ish through the first chamber to find Warpweaver Ta'oren on your right. If you hit Groomer Ta'visage, the Appearance Agitator, you've gone too far.
An important navigation note: if you find the flight master instead of a hall, you are on the Ring of Transference and not the Ring of Fates. Take the teleport pad in the middle of the city floor (to the north or south of the central open column). Clicking the teleport pad transports you to the correct ring.
The aesthetics for the four Covenants are both distinct and unique. Some players are already profoundly devoted to the Night Fae, while others embrace the gothic horror of the Venthyr. One thing is for sure: you're going to need that transmog vendor to fly your gear banner at all times.