Here's a look at the new Covenant armor sets coming in patch 9.1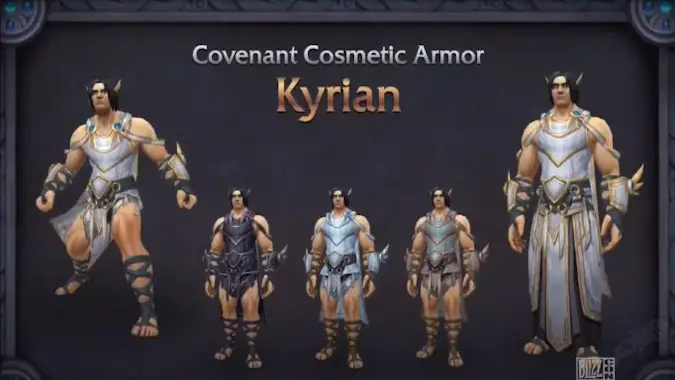 With patch 9.1 comes new ways to transmog your character, with new sets of gear coming from each Covenant. Like previous Covenant gear, this will be tied to Renown. Unlike previous Covenant gear, this is not limited by armor type. All classes will have access to the full array of of the new styles for their Covenant, which come in varying colors, and in some cases, slightly differing styles.
The Kyrian set seen above looks similar to what the NPCs wear, with its lightweight Grecian inspiration. It has a tunic and sandal look, and really allows one to have the appearance of an Aspirant in Bastion, ready to join the ranks of the of the Ascended.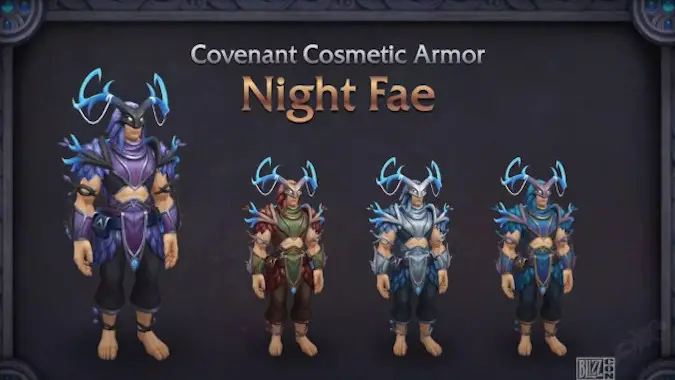 The Night Fae set embraces the plants and the wildlife of the forests. The color variations follow the colors of the seasons, to incorporate the change and the importance of what it means to nature. Though serving the Winter Queen, they should all be the one color, similar to the existing Night Fae color scheme.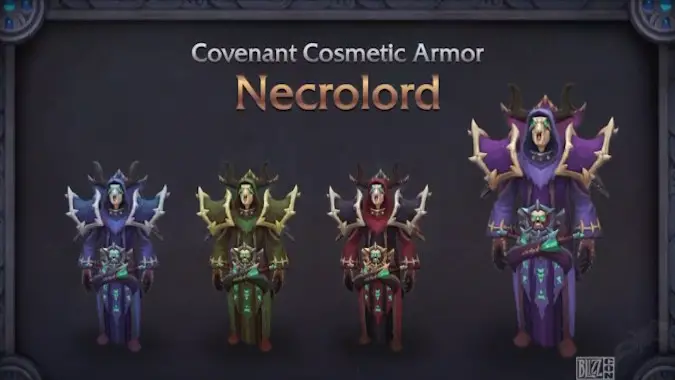 The Necrolord set was inspired by the Warcraft 3 Necromancer. The colors represent the Necrolord house colors. The plague of death, as well as the Death Knight powers came from the Shadowlands — does this imply that the Necromancer's clothing came from the Shadowlands as well, or would that be the other way around?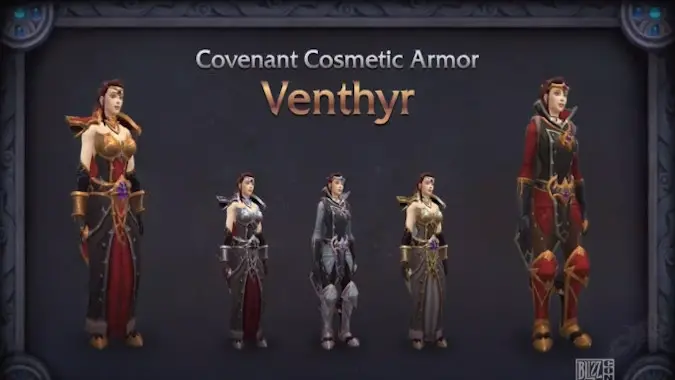 Venthyr are meant to dress up in their finest, as for the Ember Court. There are a lot of NPCs in Revendreth dressed to the nines that could have been used as a model instead, while these have a Mage and Rogue look to them. Perhaps this is just a better fit for adventurers — easier to swing a sword in, perhaps.
It was not specified if these cosmetic armor sets would initially be a reward for hitting a certain level of Renown, or if they would need to be purchased. And if they are to be purchased, would they cost gold, Anima, or Grateful Offerings — or will there be a new currency not yet revealed? Presumably at least some of the color variations will need to be unlocked and purchased with Anima, based on the previous Covenant gear sets, but we won't know more for a while.