How to earn the new Ashe skin from Ashe's Deadlock Challenge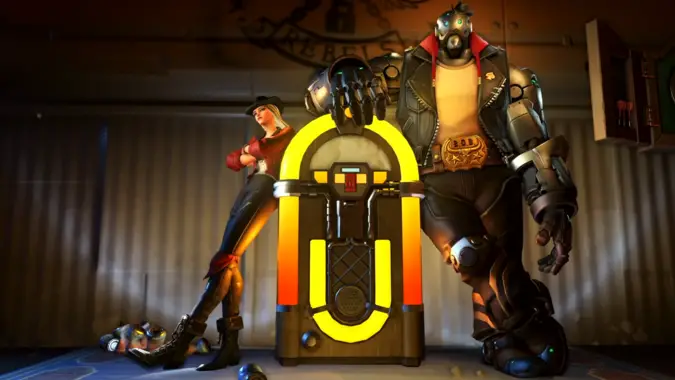 Do you want to look like a badass outlaw with an impeccably dressed robot butler? What am I saying — of course you do! Coming alongside Overwatch's move to allow crossplay between Xbox, PlayStation, and PC, Ashe is getting a set of fancy new duds to look her best. Complete Ashe's Deadlock Challenge before July 5, 2021, and you'll be looking your best while you push payloads from King's Row to Blizzard World.
All you'll have to do to earn the skin, player icon, and cute spray in Overwatch is play games. Just like the last few events, you'll need to earn 27 points by playing games in Quick Play, Competitive, or Arcade. Each game you play earns you one point, but if you win that game you get two points. So if you go on one heckuva winning streak all you need to do is win 14 games — easy, right?
You'll also be able to earn additional in-game sprays by watching Overwatch streams on Twitch. Watching two hours of Overwatch gets you an adorable spray of Ashe and a stack of pancakes. Four hours gets you a pair of sprays including a young McCree, and watching six hours of Overwatch gets you three more sprays. The last pack has a very puzzled B.O.B. in it and is therefore worth watching for. Blizzard will be highlighting a different Overwatch streamer every day until the event is over, but anybody streaming Overwatch will unlock the sprays for you if you've linked your Twitch and Battle.net accounts.
If you want more Overwatch action and juicy lore about Ashe, this event also coincides with the release of the new Overwatch novel Deadlock Rebels by Lindsay Ely. You'll be able to read about the early days of the Deadlock gang when Ashe and McCree were still friends, planning and executing a series of heists. The first chapter is free to read right now, and if that hooks you the book is available from most major retailers.
So brush off your cowboy hat and wake up your butler — it's time to show the world what the Deadlock gang is capable of.