Overwatch Summer Games 2021 is now live with Lúcioball and plenty of summer skins to collect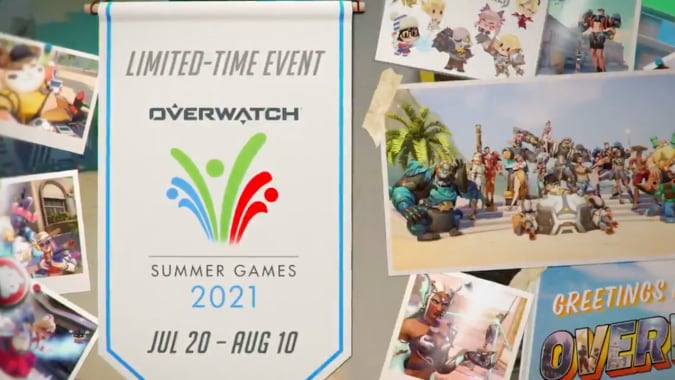 Ah, summertime. It's the season of beach vacations, tropical drinks, and amazing Overwatch skins. The game's Summer Games event kicks off today, and it will be active from July 20 — August 10. That's three weeks to get your hands on all the new cosmetics and enjoy flexing your Lúcioball skills.
There are several new seasonal items that you can only get in loot boxes or with the in-game currency. These are the heroes with new skins up for grabs:
Mermaid Symmetra (Legendary)
Poolside Ashe (Legendary)
Referee Orisa (Legendary)
Scuba Sigma (Legendary)
Sprinkles Mei (Legendary)
Nihon Hanzo (Epic)
Ocean King Winston (Epic)
Sunset Pharah (Epic)
The legendary skins are great as always; I particularly dig Poolside Ashe rocking the Super Soaker and B.O.B. crowned with a floatie flamingo. But in my professional opinion, the best new item is the Soldier: 76 'Grillmaster' highlight intro. It's char-grilled perfection and I must have it.
In addition, Summer Games is offering weekly unlocks. These have become one of my favorite elements to focus on during an Overwatch event. The loot box skins will come around again in future years, but the weekly rewards are true limited-time offers. And they're pretty dang flashy for epic level appearances.
Each week, you can earn the epic skins by playing matches in Quick Play, Arcade, or Competitive modes. You'll get a player icon after nine games, a spray after 18 games, and the epic skin after 27 games. A win will count as two games. Winston is the star for week one, Pharah gets week two, and the final week is all about Hanzo.
For the Lúcioball fans, you have two options for getting your wins by playing the Rocket League riff. The standard game will be available as a brawl, and there's a zanier version called Lúcioball Remix with two balls in play and high-value bonus balls that will occasionally appear in the arena.
Happy unlocking, and don't forget to apply your sunscreen!