How to do Conquests for the Season's Journey in Diablo 3 Season 25
Happy Diablo 3 Season, friend! Do you have your wholly adorable and only-slightly murderous Dark Lordling pet from Season 25 yet? Wait, why don't you? Oh, Conquests.
Conquests can be painful if you haven't had to tackle them in a while (or ever). But don't let the daunting goals fool you — they're called achievements for a reason. But we're here to help you get those achievements completed! Here's what you should know going into Conquests in Diablo 3.
What are Conquests?
Conquests are uniquely Seasonal achievements; leaderboards exist specifically for Conquests and reset every season. The last three chapters (Destroyer, Conqueror, and Guardian) require completing a Conquest each to progress in the season's journey. The Conquests aren't assigned; the goals involve completing 1 / 2 / 3 (depending on the chapter) Conquest-type achievements out of the pool of five available in the season.
While Conquests are more difficult than the average achievement, they also scale in difficulty. Some are extremely hard to achieve with solo play, and some only require level 70 and the right gear.
What are the current Season's Conquests?
Each Conquest achievement has a normal mode version and a hardcore mode version, so the names below are listed as Normal Name / Hardcore Name.
Curses! / Stars Align — Kill 350 or more monsters in a Cursed Chest event at level 70 on Torment 10 difficulty or higher.
Divinity / Lionhearted — Complete a Greater Rift 75 Solo.
Masters of the Universe / Masters of Sets — Master eight Set Dungeons.
Sprinter / Speed Racer — Complete Acts I through V at max level in under 1 hour.
The Thrill / Super Human — Reach Greater Rift Level 45 Solo without any Set items equipped.
What Conquests should you complete in Season 25?
Now, what should you tackle first? That's a pretty good question. Let's walk through these one at a time; please note that I'm going through these from a solo perspective, impacting my ordering.
The Thrill / Super Human
The easiest Conquestrequires a bit of effort in gearing and paragon levels — The Thrill / Super Human. With the introduction of the Legacy of Dreams legendary gem, this Conquest has become significantly simpler for almost every class, as most have a solid LoD build that can be thrown together with low effort. Like the Legacy of Nightmares ring set, the Legacy of Dreams gem increases damage dealt and reduces damage taken but requires no set bonuses equipped on the player. Individual set items, no problem.
Every legendary item equipped contributes to the increase, but try to get the gem to rank 25 so you unlock the double bonus for Ancient items. The Rank 25 LOD is not essential; in Season 21, I completed Speed Demon with most of the gear necessary for the Demon Hunter Legacy of Dreams build (but not all) and a Rank 15 gem. Sadly, not every class has a solid build that can take advantage of Legacy of Dreams, making it frustrating for some of the player base.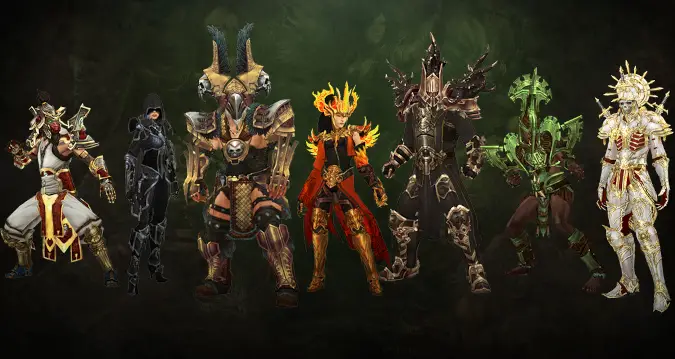 Divinity / Lionhearted
The Conquest solidly in "second place" for difficulty is Divinity / Lionhearted. This one is a natural step if you're working on completing the entire Season Journey (or just looking to push the leaderboards)! However, if you're more casual of a player, completing a GR75 solo might sound insurmountable.
But trust me, you can do this, and here's why. A GR75 is the equivalent of Torment 16. Yes, that's the highest Torment difficulty. However, the combination of your Haedrig's gift set, some paragon points under your belt, and leveling your legendary gems for the Season's Journey makes this a natural next step. Are you having difficulty knocking it out without dying excessively and burning up your timer? Consider swapping in a Unity ring on yourself and your follower and leveling up a defensive legendary gem, such as Esoteric Alteration, Molten Wildebeest's Gizard, or Mutilation Guard.
The Curses! / Stars Align
The Curses! / Stars Align Conquest is quite fun in a full four-person party but can be done solo with the right class. The bulk of the effort is front-loaded. First, you'll want to look for a build that's going to put out a good deal of Area or AOE damage because you're racing against a clock where the usual goal is 100 enemies killed, not 350+. Multishot Demon Hunters, this is your time to shine!
Next, try to hunt for these two specific Cursed events with a better spawn rate: the Cursed Peat event in Act 5's Paths of the Drowned or the Cursed Bellows event in Act 1's Halls of Agony Level 3. Once your stars and planets align, kill your little heart out (but not literally, because ouch).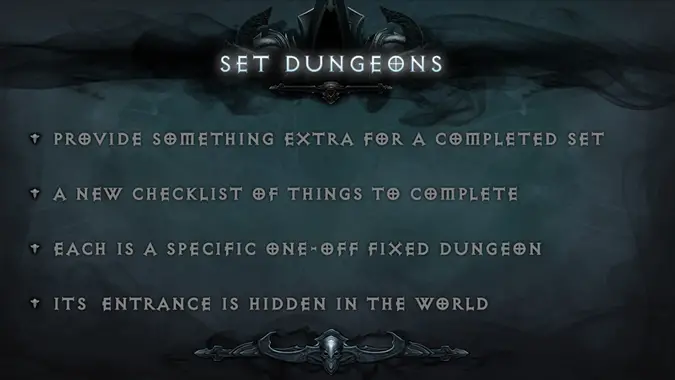 Masters of the Universe / Masters of Sets
Masters of the Universe / Masters of Sets is considered one of the most frustrating Conquests to complete. Many solid players don't bother with the season's journey because of the requirement to master ONE set dungeon; now you want us to do eight?! Insanity. But that's why these are considered Conquests.
The challenge here is two-fold — first, you need to gather eight sets (each class has four with associated dungeons) and the associated gear to do a set dungeon run. This count means having at least two level 70 characters in Seasonal play.
The second half of the challenge is in the very name of this Conquest — you have to master eight set dungeons. Set dungeons have two sets of objectives — basic and mastery — that you need to knock out within the time limit. Set dungeons do not follow your game's difficulty setting, so you don't need to worry if you've forgotten to drop it down to Normal. Regardless, I highly recommend doing your homework first if you're going to attempt this Conquest. Research the set dungeons, plan optimized routes, take the time to gather the right gear, and practice with the build. It's not impossible to complete this, but the time investment will serve you well.
Sprinter / Speed Racer
Sprinter / Speed Racer is the most challenging Conquest achievement to complete in Season 25 when solo. The Conquest requires going through the entire story mode, Acts 1 through 5, with all the associated story and boss kills in under an hour. Knocking this out involves a lot of prep time and requires an excellent team working together.
In theory, Sprinter / Speed Racer is doable while soloing, but ouch. I don't have much good advice for this one other than working with friends who know the game. Keep the team communication lines open (voice chat is a boon here). Set your difficulty to Normal within the game, enable the "Skip Cut Scenes" option in the Gameplay settings, and skip through all optional NPC dialog with the spacebar. Stack movement speed boosts through gear and gems, and good luck to you.
I won't sugar coat it — Season 25's journey will take some effort to complete. But you've got this! Go tackle the Conquest achievements before Season 25 ends; there is a vicious little demon pet waiting for you!
Updated 12/13/2021