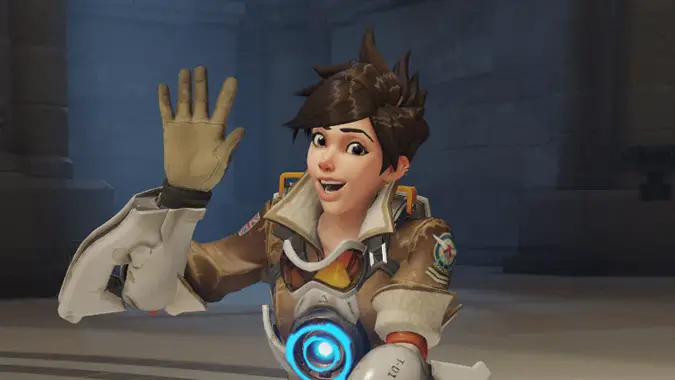 Heroes of the Storm: Tracer skins
Tracer is an Assassin from the Overwatch franchise. If you're new to Heroes of the Storm, you might want to check our general Heroes of the Storm guide which includes all of our Heroes walkthroughs and tutorials.
You can click on the images below to see Tracer's skin options in a higher resolution.
Table of Contents
Agent of Overwatch Tracer
Lena Oxton (call sign: "Tracer"), is both an adventurer and an irrepressible force for good. With the ability to alter her own time at will, she fights the good fight wherever she goes — even the Nexus. Don't worry, loves. The cavalry's finally here.
Base Skin
Palette Options: Orange, green, blue
Price: 15,000g / $9.99 / 8.99€ or free with the purchase of Overwatch's Origins or Collector's editions
Master Tracer
Tracer's teleporting fighter, the Slipstream, disappeared during its initial test flight. The unexpected discovery of its engine within the Nexus has allowed her to significantly bolster her weaponry.
Additional Features: None
Palette Options: Orange, blue, pink
Price: 10,000g (requires Hero Level 10)
Spectre Tracer
While terrazine exposure greatly enhances psionic powers, Tracer's ability to manipulate her own space-time is considered a unique gift even among her fellow Spectres.
Additional Features: Themed abilities, altered voice-over
Palette Options: Black, purple, orange
Price: $9.99 / 8.99€
Join the Discussion
Blizzard Watch is a safe space for all readers. By leaving comments on this site you agree to follow our commenting and community guidelines.